Home> Program > Enlightenment in Dialogue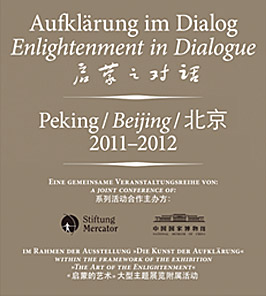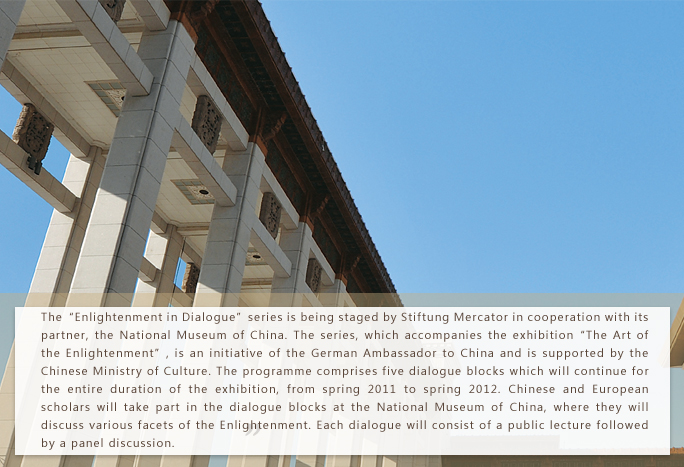 Date: April 2th, 2011, 9am to 12pm
The first forum describes how the exhibition "The Art of the Enlightenment" came about. It also introduces visitors to the sites of the collections from which the exhibited artworks were taken and explores the reasons for choosing this exhibition theme.
Date: July 14th, 2011, 9am to 12pm
This forum is devoted to the Enlightenment and its relationship to art. The forum will focus in equal measure on particular aspects of the Enlightenment.
Date: September 9th, 2011, 9am to 12pm
This forum is devoted to the Enlightenment and its Chinese History. Enlightenment is an omnipresent phenomenon that cannot be limited to a single event in European history.
Date: November 17th,2011, 9am to 12pm
Dialogue V: Enlightenment and Cultures of Knowledge
Date: March 25th,2012, 2 pm to 4.15 pm

About Stiftung Mercator:
Stiftung Mercator is one of Germany's largest foundations. It initiates and funds projects that promote better educational opportunities in schools and universities. In the spirit of Gerhard Mercator, it supports initiatives that embody the idea of open-mindedness and tolerance through intercultural encounters, encouraging the sharing of knowledge and culture. The foundation provides a platform for new ideas to enable people – regardless of their national, cultural or social background – to develop their personality, become involved in society and make the most of the opportunities available to them. In this sense it is committed to inspiring ideas. Stiftung Mercator takes an entrepreneurial, international and professional approach to its work. It has a particular affinity with the Ruhr area, the home of its founding family.